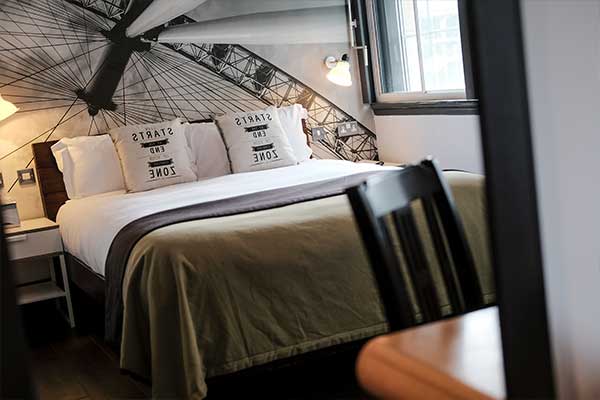 Stay
At a glance
Steeped in history, the Wellington at Waterloo is a unique and interesting hotel. Located on Waterloo Road, directly opposite Waterloo Station, the whole of London is on your doorstep. Close to most of the major underground links, you couldn't be better placed to see all that London has to offer. With breakfast included in our rates, The Wellington is a great option for those looking to explore London on a budget. The Wellington has a lively & popular pub downstairs, so you're never far from a nightcap either!
All of our rooms feature our super comfortable 1600 spring mattresses, Egyptian Cotton Linen and a range of Cole & Lewis toiletries.
Due to the historic nature of our building we do not have a lift up to our bedrooms, however our friendly staff are always on hand to help you with your luggage.
What's Included
Best Price Guarantee
Free WiFi
Bed and Breakfast
Read More
Book Now
For Flexible Rate bookings, no deposit will be charged. Your credit card will guarantee the booking.
For Advance Purchase bookings, full payment will be taken at time of booking.
We accept all of the following card types
VAT & Service is included
Please note that we do not have a lift (elevator) and that bedrooms are accessed by stairs.
Safe and secure. We use encryption technology to ensure your details remain private when you book.
Direct booking. You're booking with us directly, so there are no booking fees, or risk of us not receiving your booking.
Privacy promise. We won't send you marketing emails you haven't asked for (or trick you into asking for them).
Best price guarantee. We'll match any lower online price, so get in touch if you find one.
Dogs are welcome in all rooms subject to a maximum of 2 dogs per room at a cost of £10.00 per dog per night. Please advise reception when booking so we are aware before arrival to allow us to allocate the correct room.
Our cancellation policy differs based on the rate type booked. Please check your booking confirmation to see which you booked.
Flexible Rate - If cancelled by midday the day before arrival, no fee will be charged. If cancelled later or in case of no-show, the first night will be charged.
Advance Rate – Pre-paid, non-refundable rate. If cancelled or in case of a no-show, the full payment will be retained.
If you have made a reservation with us directly (either through our website, over the phone, or in person) please email or call us to modify or cancel your booking. Our contact details are at the bottom of this page. If you have booked through a travel agent or other online booking service, you will need to contact them to request your change or cancellation.